Encouraging students to participate in classroom activities can be difficult for children who are introverted or afraid to interact with their peers. So what should teachers do to encourage students to actively communicate in class? Join EIV Education to find the answer to this problem!.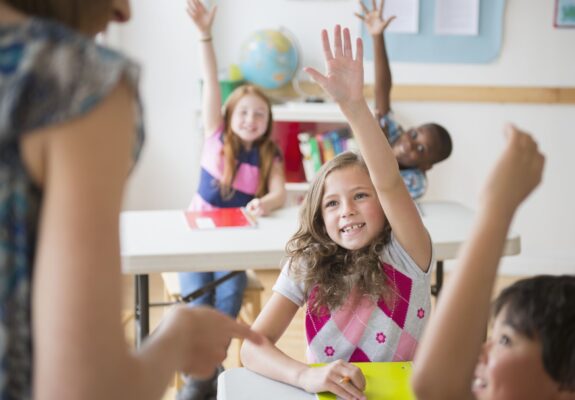 Reasons why students are afraid to communicate in class
Psychological barriers: Students with psychological obstacles always feel so passive and scared that their mind goes completely blank when they have to stand in crowded places or simply be called suddenly to answer questions in class. Instead of speaking confidently as they would like, the student is often confused and cannot find the right words to express his or her thoughts.
Personality: Personality also contributes to the shyness or passivity of students in class. Students with introverted personalities tend to only observe and are afraid to be involved in the situations around them.
Lack of motivation: One study shows that factors such as preferred learning styles, learning needs, goals, and beliefs affect the ability to successfully learn a foreign language independently. Therefore, if the approach is not suitable, it will reduce the learning motivation of students, causing them to be uninterested in the lesson as well as speaking in class.
Lack of speaking skills and vocabulary: Students are not good at communicating partly because they do not know what to say, or they are afraid of saying the wrong thing, so they do not dare to speak. If this situation continues for a long time, students can become shy when they talk to others, in class or they could only sit quietly in extracurricular sessions. In the long run, students will lose the dynamic energy of teenagers.
Measures to encourage students to actively communicate in class
Instruct students to read the material in advance
Instructing students to read the material in advance is the simplest measure to have a better lesson. When fully prepared with information about the lesson, students ten to speak more and actively interact in class.
From there, teachers in the classroom should encourage students to communicate by giving points or small rewards every time they contribute to the lesson so that their learning is more interesting.
Hold small debates
Small group discussions bring more opportunities for every student. Not only quiet students but all of the students with different personalities and opinions will learn more soft skills such as "teamwork". This will also make students more comfortable speaking in front of the class as they will have the opportunity to discuss their ideas with a small group first and gradually learn how to present in front of a crowd.
Give time to think
When teachers ask a question, don't expect an immediate answer. Give students some time to gather their thoughts and think about their answers. Students can even write down their thoughts on paper or on the board to discuss them and listen to their peers' views. Sometimes, all a teacher needs to do to make students talk more is to keep them quiet for a few minutes so they can think.
Use tactical body language
Let's think about how students perceive the teacher when the teacher is in front of them. If the teacher stands with his/ her arms crossed and stares at the students while they are talking, will they be distracted? The teachers' body language will determine how comfortable the students are and how long the students will talk. Teachers should watch and focus on the students, but not crossing their arms when the students are speaking. Teachers should nod their head slightly to show agreement and do not interrupt students.
Create student-led forums on social networks
If the above methods discourage students from sharing themselves in front of the class, teachers can create group forums on social networks through educational websites. Then, share by letting students ask questions. Ask students what they want to learn about the topic that is being taught, then ask them to submit a few questions for class discussion. When teachers have a student-led forum, students will feel more free and comfortable to talk in the discussion because the questions are proposed by themselves, as well as by their peers.
Benefits of communicating in the classroom
Improve learning outcomes
If you answer the question incorrectly, the teacher will be able to explain why you were wrong and you will learn something new through this. Other students may also think the same way but don't say it out loud, so you are not only helping yourself, but you are helping other students as well.
Easily understand the lesson
Volunteering to speak or communicate in class is also a good method as you will know how much of the lesson you have grasped. In addition, this also helps you prove and test whether you really understand the lesson or not. However, you still need to take notes carefully so that you can review the lesson when necessary, and if the teacher does not have enough time to explain the lesson again, you can ask your good classmates to help.
Leave a good impression on teachers
Is the reason why you don't want to contribute your own opinions and views to the lesson because you are afraid that if you answer wrong, you will be "judged"? Don't think too negatively, whether you answer right or wrong, the teachers still acknowledge and appreciate your effort. You will leave a good impression on your teachers. However, you should also consider before speaking so that you can get the right answer.
Conclusion
Encouraging students to actively communicate depends on the personality of each student and the teaching method of the teacher. However, we should try to interact and engage with the class for a good outcome.
EIV Education has answered the question of how to encourage students to communicate in class above. EIV Education hopes to receive constructive feedback from readers below.
If you are confident that you can bring a good educational method to children, inspire and teach children basic communication skills in the classroom, come to EIV Education to experience working in a beautiful country, a unique combination of old and new, a dynamic and flexible working environment. EIV Education is a company specializing in providing native English teachers for Kindergarten – High School, Universities, private classes, and corporate companies across Vietnam.
EIV Recruitment – Native teacher
Email: info@eiv.edu.vn
Hotline: 028.7309.9959
Website: https://recruitment.eiv.edu.vn/
EIV – HCM: 6th floor, Estar Building, 149 Vo Van Tan, Ward 5, District 3, HCM

EIV – HN: 1st Floor, Platinum Residences Building , 6 Nguyen Cong Hoan, Ba Dinh District, Ha Noi

EIV – DN: 8th floor, Cevimetal Building, 69 Quang Trung, Hai Chau Dist, Da Nang