Picture this: you work less than 20 hours a week and make a fully-livable income. You spend your days lounging by the rooftop pool, zipping around on your motorbike, and eating insanely delicious meals that cost less than $1 USD. You take weekend trips to the beach and can jet off to Thailand, Indonesia, and the Philippines with ease.
You're surrounded by a vibrancy unlike any other: the sights and sounds and smells are enough to keep you fascinated for years. There's always a new cafe to check out, or local delicacy to try, and you've got the time and money to do it all.
Sound like an absolute dream? It is, but it can also be your life if you make the jump to teach English in Vietnam.
How Do I Know This is Really Possible?
Trust me, it's real and you can do it. I know this because I spent almost two years living and working in Ho Chi Minh City, Vietnam. Of course there were ups and downs, but I can safely say it was one of the most incredible experiences of my life.
If you're considering making the move to teach English in Vietnam but you're feeling overwhelmed, you've come to the right place. I'm going to break down everything you need to know, including:
Certifications and visa requirements
Types of teaching jobs available
Popular regions to live and work
Cost of living and start up
So let's dive right in so you can be one step closer to living your dream life in Vietnam.
The Imperial City of Hue
Certification & Visa Requirements To Teach English in Vietnam
Most English teaching jobs in Vietnam require a bachelor's degree, a criminal background check, and almost always a TEFL certificate.
You've got a few options when it comes to navigating teaching certifications and visas. Many English teachers in Vietnam move there without a job lined up or even a TEFL certification. And you can do that, too!
TEFL Certification Options
There are plenty of TEFL programs you can complete in-country. The benefit of doing your TEFL in Vietnam is that you'll usually get some sort of assistance in finding your first job. The downside? You'll have to come with a deeper wallet to pay for your TEFL course and your lifestyle until you get a job (up to 6-8 weeks from when you land).
Don't want to live off your savings for over a month? Complete an online TEFL course in your home country before moving. There are some infamously cheap courses available on the internet. But be forewarned, not all teaching jobs will accept TEFL certifications that don't include teaching practice and a 120-hour curriculum. But we'll get into that later.
Visa Options
If you land a job ahead of time, congrats! Your employer will tell you exactly what you need to do to get the proper business visa. Most likely, they'll help you to get a tourist visa that will last three months. During that time, your employer will set you up to get your year-long business visa or your 3-year temporary residence card.
If you decide to move to Vietnam before securing a job, you can still get a long-term visa. In this case, you'll do the visa-on-arrival. Basically, you pay a company to sponsor you. They send you a signed document showing that you're sponsored, and you present it with a form when you arrive at the airport in Vietnam.
You'll pay the company a fee and also pay $25 USD at the visa-on-arrival counter. It's cheaper and faster than going through the Vietnamese embassy, just do your homework before choosing a company. You'll give them your passport details, after all!
I've referred friends and family to My Vietnam Visa and they've been professional and trustworthy. They've even got a 12-month visa option!
Brit teaching a summer camp in Ho Chi Minh City
Teaching Jobs in Vietnam
There are so many teaching jobs available in Vietnam, ranging from public kindergarten (what I affectionately call "baby wrangling") to prestigious international schools. Let's break down the three most common options and some pros and cons for each.
Public Schools & Kindergartens
These jobs range pretty drastically when it comes to pay, class sizes, hours, and required planning.
Typically though, public kindergarten classes will have 15-20 students. Classes start as low as 18 months old, hence "baby wrangling." Seriously, I once covered a public kindergarten class where I spent the entire 20 minutes getting babies back into their chairs after they tried to escape. Oh, and one little guy peed on me.
Public school classes for ages five and up will have up to 40 students per class. Less chaotic than working with the little ones, but it can still be overwhelming if you're new to TEFL.
Pros:
Usually little-to-no planning is required.
Often a pretty laid back job. You're expected to teach kids English, but you're trusted to do it however you see fit.
Flexible hours: you'll usually just teach a few classes a day, between 7 am and 4 pm. Some public school teachers work at several schools to up their hours and income.
Cons:
I'll say it again: baby wrangling. My experience in public schools made me feel like I was there more for show than anything else, but I know some people who really love it.
Huge class sizes. Trying to get 40 teenagers with an elementary understanding of English to do anything is challenging, especially if you're a new teacher.
There's not a whole lot of technology available, so be prepared for classic blackboard teaching.
No air conditioning. Seems minor until you're covered in sweat at 8 am.
Expected Salary
Weekly hours: 20-30
Typical monthly salary: 28 million-42 million VND (1,200-1,800 USD)
Language Centers
This is probably the most popular option for English teachers in Vietnam. Language centers are for-profit after school programs teaching students of all ages, including adults. Some of the big players are EIV, ILA, VUS, British Council, Apax, EMG, Apollo…the list goes on and on. So! Many! Jobs!
Pros:
Incredible quality of life. I worked 14 hours a week at a language center and lived very comfortably.
Professional work environment. This varies from center to center, but there's far more teacher support and resources than most public school jobs. Hello, iPad labs and Google Presentation lessons.
Cons:
Unusual hours. These centers operate after school and on weekends, which can be a bummer. Expect to work anytime between 4-10 pm on weekdays and all day on the weekends. You do usually get 1-2 weekdays off as your own personal "weekend."
Expected Salary
Weekly hours: 15-25
Typical monthly salary: 28 million-47 million VND (1,200-2,000 USD)
International Schools
Oh la la, aren't you fancy! International school jobs are highly sought after and usually go to applicants with a few years' experience under their belt. Some international schools require formal education in teaching, like a Master's Degree or teaching license from your home country.
Pros:
Great pay! International school teachers make the big bucks because they've got the experience and/or necessary background.
Some of these jobs also provide killer benefits like flight reimbursement, rent stipends, and more.
Excellent teacher support. You're at a real school here, so there are great resources and help from colleagues available to you.
Cons:
You're not going to love working for an international school if you came to Vietnam to work less. These jobs are like being a teacher at home: you'll work full days and be expected to put a lot of effort in.
Expected Salary
Weekly hours: 30+
Typical monthly salary: 47 million-70 million VND (2,000-3,000 USD)
*International school teachers with teaching licenses from their home country typically make even more, up to 5,000 USD a month.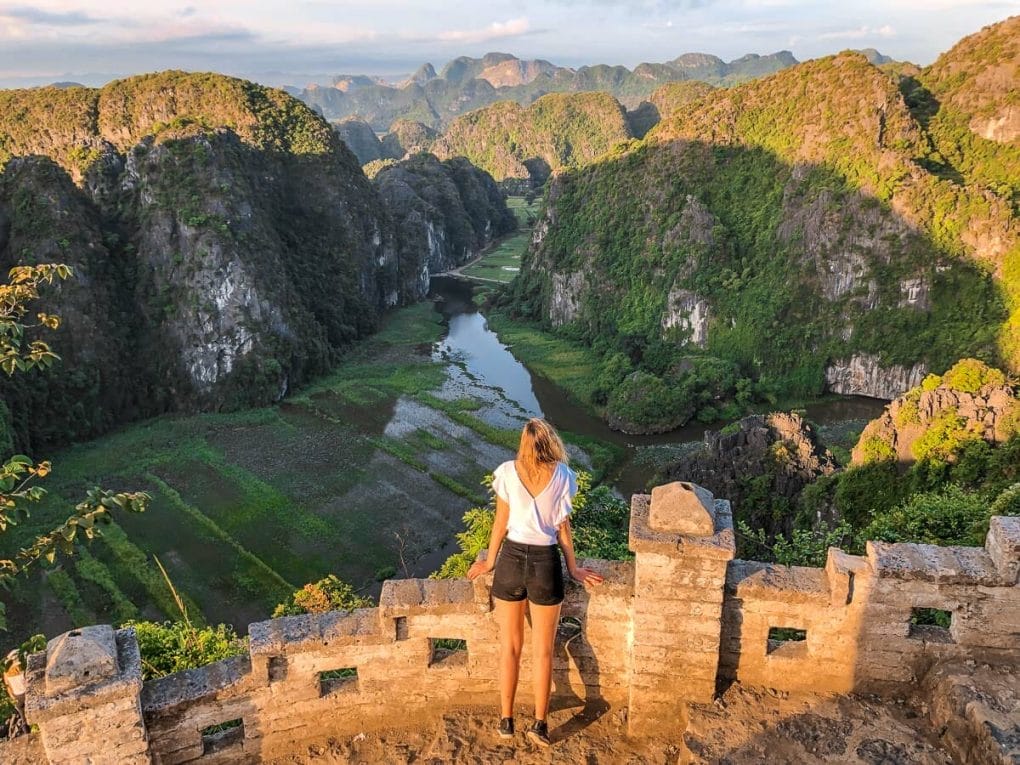 The nature of Ninh Binh is unrivaled
Still Not Sure Where to Work?
No worries! Many English teachers in Vietnam do some combination of the options listed above to reap more benefits and increase their earnings. I worked at two different language centers during my time there, with three months of overlap between the two positions.
It's also very common to take on some substitute teaching for a few hours a month or offer private tutoring to supplement your income.
Where In Vietnam Should I Go?
There are a few popular regions when considering teaching in Vietnam: the south, the central coast, and the north. There are cities in each that serve as the main hubs for expat life and teaching jobs, but more remote options are available as well.
The South
This is my favorite region to live in Vietnam and where I spent my entire working career in the country. The main hub of the south is Ho Chi Minh City, also known as Saigon. Home to almost 9 million people, Ho Chi Minh City is even bigger than New York City and just filled with life, noise, and sometimes chaos.
I might catch heat from a few Hanoian expats, but the south is typically considered to have warmer and friendlier locals. Of course, some people prefer the more restrained attitude up north. Just ask Tom of Vietnam Coracle.
And the expat community in Saigon is massive! There can be a bit of a party atmosphere, but it's easy to find a solid group of friends no matter your lifestyle. I found Ho Chi Minh to skew the youngest. But there are still expats of all ages, from recent university grads to retirees.
Vibrant Ho Chi Minh City Photo by Katie Lemon
Central Vietnam
The most popular spots to teach in central Vietnam are the laid back beach town of Da Nang and the ancient city of Hue. While teaching in central Vietnam isn't as popular as teaching in Ho Chi Minh or Hanoi, certain parts of life there are envied by the expats in bigger cities.
If you choose Da Nang, you'll be surrounded by a relaxed expat community mostly made up of young couples, families, and older expats. You'll also be right on the beach, which is always a plus. Hue is farther west than Da Nang in the mountains and also quite laid back.
Jobs aren't as plentiful here, so do your research and maybe move here after starting in a bigger city.
Pretty pretty Da Nang
The North
The north is home to Hanoi, the government capital of Vietnam. With just over 8 million residents, it's only slightly smaller than Ho Chi Minh and still just as chaotic and lively. Where Saigon has a more modern feel, Hanoi maintains more French and traditional Vietnamese architecture.
All Vietnamese food is incredible, but the specialties up north are some of the very best. If you want to avoid the avid Vietnamese heat, Hanoi actually has a wider range of seasons because of how far north it is.
The expat community is large here too, and just as varied as Saigon. You'll find expats of all ages teaching English in Hanoi, some who party and some who don't, some with families and some living the bachelor(ette) life.
The famous train track street in Hanoi
Money, Honey: What Does It Cost To Live in Vietnam?
Here's the stuff you're really dying to know. What does it actually cost to get started as an English teacher in Vietnam, and what's the cost of living for a typical expat teacher? Let's break it down.
Getting Started
Start-up costs will include your flight (obviously), your visa, and your accommodations and transport. Many new teachers live in a hostel or AirBnB while they look for an apartment. If you want to drive a motorbike, expect to pay about $40 USD a month to rent or anywhere from $250-$600 to buy one.
Paying Rent
Rent will vary based on the living situation you're after. My centrally-located studio apartment cost me less than $400 USD a month and included a twice-weekly cleaning service and all utilities. Many people live in shared houses for under $300 a month.
No matter what you choose, be aware that many landlords will require first month's rent and a two month deposit when you move in. 
Rollin' in dough! Photo by Katie Lemon
So, How Much Money Do I Bring?
If you come with a job lined up, you'll want to have at least $2000 USD saved up. This'll cover unexpected start-up costs (cell phone data! motorbike helmet!) and allow you to pay your hefty apartment deposit.
If you show up in Vietnam without a job, bring more money to cover your lifestyle while you're taking a TEFL course or job-hunting. Teaching positions abound, so if you pursue all leads and put in your applications, you can land something within a few weeks.
Another important thing to know: many English teaching jobs in Vietnam only pay once a month. So even if you start the day after you arrive, you may not see any money in your account for another few weeks. 
The Nuts & Bolts
Want a more intimate look at daily costs in Vietnam? For your viewing pleasure, here are some of the prices I happened to write down while living there. These are converted from Vietnamese Dong to USD and rounded to the nearest five cents:
Bottle of water: 40 cents
Vietnamese coffee (cà phê sữa đá): 80 cents
Western coffee (latte): $1.70
Bowl of beef pho: $2.55
Fresh fruit smoothie: $1.30
Beer at a bar (Saigon Red, my favorite): $1.30
Beer from a corner store (333, of course): 40 cents
Gin & Tonic at a bar: $3.20
Banh mi sandwich: 65 cents
Poke bowl delivery: $4.25
Eggs Benedict at Western brunch spot: $4.50
Night in a popular hostel, shared room: $5-$8
Night in a popular hostel, private room: $15-$22
Of course, these aren't hard and fast prices, just what I recorded while living in Ho Chi Minh City a few months ago. In any case, it's clear that Vietnam is a really affordable place to live. There's definitely a premium on Western products, but they're still often cheaper than they are in Western countries.
School lunch in Vietnam
Ready To Start Teaching English in Vietnam?
I don't blame you! Vietnam is an incredible place to live and teach. You can lead a luxurious life with minimal work hours and maximum time to explore the local culture. The expat community is massive and the locals are welcoming and wonderful.
Source: lifeofbrit.com